Make a Payment
Allpay - Internet Payment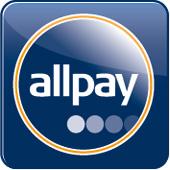 If you know your allpay card reference number and you have an email address you can register with allpay to make a payment online using a debit or credit card. If this is your first visit to allpay Internet Payments then you must complete a short, simple sign up process. You can do this by clicking here. This is a one-time process to create your account.
If you have already signed up, please sign in with your email address and password by clicking here.
Allpay - Mobile Application
The allpay app is a mobile application (App) available to download for your mobile device. The allpay App is available free of charge and enables you to pay your rent or factoring charges easily, wherever you are, at the touch of a button.
Download the AllPay App now at Apple App Store and Google Play
More Ways To Pay
For more ways to pay your rent or factoring charges visit our Paying Your Rent page here.