Using a Kinder Inner Voice
Date:
25 October 2019 to 25 October 2019
Where:
Drumchapel CHSS Community Hub
16 Dunkenny Road
Drumchapel
Glasgow
G15 7QR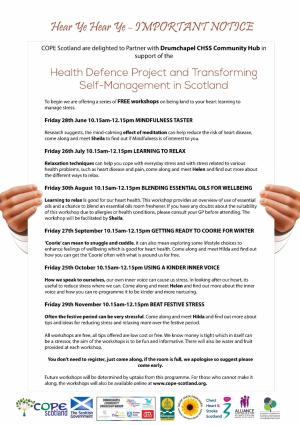 About this Event
Cope Scotland are hosting this free Using a Kinder Inner Voice Session as part of their Health Defence Programme at the Drumchapel CHSS Community Hub on Friday 25th of October from 10.15am to 12.15pm. No need to book, just go along!
Come along and meet Helen and find out more about the inner voice and how you can re-programme it to be kinder and more nurturing.
It is suggested you arrive early to secure your space as these sessions are expected to be busy.